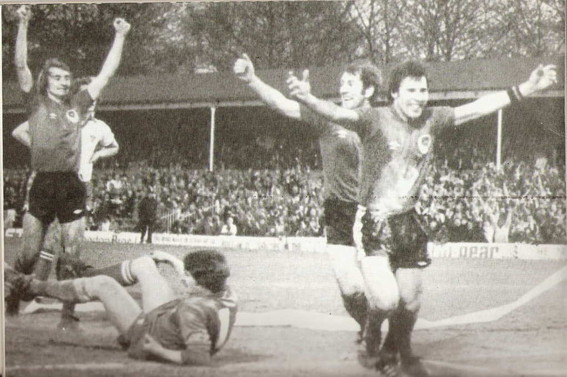 Blackburn Rovers finished second in the Third Division in 1980, going up with champions Grimsby Town and third-placed Sheffield Wednesday. Here, Simon Garner – who went on to become Rovers' all-time leading scorer – celebrates a crucial goal at Bury.
Barnsley
Gary Pierce; John Collins, Phil Chambers, Norman Hunter, Mick McCarthy; Ian Banks, Bobby Flavell, Ronnie Glavin, Mike Lester; Derrick Parker, Glyn Riley.
Sub: Neil Cooper.
Manager: Allan Clarke.
Playing squad members: Peter Springett; Ian Evans, Joe Joyce; Winston Campbell, Bobby Downes, Ally Millar, Graham Pugh; Trevor Aylott, Allan Clarke, Tommy Graham, David Speedie, Phil Wormley.
Non-playing squad members: Kevin McCarthy; Gordon Boyd; Graham Reed.
Blackburn Rovers
Jim Arnold; Mick Rathbone, Jim Branagan, Derek Fazackerley, Glenn Keeley; Howard Kendall, Noel Brotherston, Tony Parkes; Andy Crawford, Simon Garner, Duncan McKenzie.
Sub: Brian Morley.
Manager: Howard Kendall.
Playing squad members: John Butcher; Paul Round; Paul Comstive, Russell Coughlin, Martin Fowler, Stuart Metcalfe; John Aston, Joe Craig, Stuart Parker, Kevin Stonehouse.
Non-playing squad members: Chris Pearce; Andy Morley, Peter Morris, Tim Parkin, Dave Wagstaffe.
Blackpool
Iain Hesford; Dick Malone, Terry Pashley, Jackie Ashurst, Stan McEwan, Max Thompson; Bobby Doyle, Wayne Harrison, Jimmy Weston; Tony Kellow, Colin Morris.
Sub: Brian Smith.
Manager: Stan Ternent.
Playing squad members: Tom McAlister; Andy Brockbank, Brian Wilson; Keith Bowey, Dave Hockaday, Bobby Kerr, Peter Noble; Dave Bamber, Paul Fletcher, Garry Jones, Gary Seward, Phil Smith.
Non-playing squad members: Jon Rush; Mark Davies, Bobby Fleming, Paul Gardner, John May; John Deary, Jimmy Hall, Brian Jackson, Bobby Tynan; Carl Howarth, Shaun Rowlands, Andy Welch.
Brentford
Len Bond; John Fraser, Barry Tucker, Pat Kruse, Jim McNichol, Danis Salman; Dave Carlton, Jackie Graham, Paul Shrubb; Lee Holmes, Steve Phillips.
Sub: Dean Smith.
Manager: Bill Dodgin (Jr.).
Playing squad members: Trevor Porter; Iori Jenkins; Doug Allder, Bob Booker, Allan Glover, Willie Graham, Paul Walker; Billy Holmes.
Non-playing squad members: Ron Harris.
Bury
John Forrest; Dave Constantine, Keith Kennedy, Pat Howard, John Waddington, Alan Whitehead; Jmmy McIlwraith, Steve Mullen, Danny Wilson; Paul Hilton, Craig Madden.
Sub: Steve Johnson.
Manager: Dave Connor.
Playing squad members: Dave Bradley, Don Graham, John Ritson; Paul Cruickshank, Carl Halford, Ray Lugg, Gordon Taylor, Alan Waldron; David Gregory.
Non-playing squad members: Dave Latchford; Tony Bailey, Ron Evans; Kevin Mooney.
Carlisle United
Trevor Swinburne; Steve Hoolickin, Graham Winstanley, Ian MacDonald, Bobby Parker; Phil Bonnyman, George McVitie, Steve Ludlam, Jim Hamilton; Paul Bannon, Peter Beardsley.
Sub: Mike McCartney.
Manager: Bobby Moncur/Martin Harvey.
Playing squad members: Andy Collins, Keith Houghton; Hugh McAuley, Keith Sawyers; Geoff Fell, Gordon Staniforth.
Non-playing squad members: Tony Harrison; Graham Mossop.
Chester
Grenville Millington; Paul Raynor, Jim Walker, John Cottam, Trevor Storton; Bryn Jones, Peter Sutcliffe, Alan Oakes, Peter Henderson; Ron Phillips, Ian Rush.
Sub: Derek Jeffries.
Manager: Alan Oakes.
Playing squad members: Brian Lloyd; David Burns; John Ruggiero; Ian Edwards, Keith Fear, Ian Howat.
Non-playing squad members: Peter Zelem; Richard Gendall; Doug Livermore; Terry Cooke, Paul Lewis, David Prestidge.
Chesterfield
Phil Tingay; Colin Tartt, Sean O'Neill, Bill Green, John Ridley; Andy Kowalski, Alan Birch, Geoff Salmons, Alan Crawford; Ernie Moss, Phil Walker.
Sub: Les Hunter.
Manager: Arthur Cox.
Playing squad members: Gary Pollard, John Stirk; Gary Simpson.
Non-playing squad members: Paul Gregory; Ken Burton, Glyn Chamberlain, Andy Higgins; Bill Dearden; Keith Walwyn, David Windridge.
Colchester United
Mike Walker; Micky Cook, Steve Dowman, Mike Packer, Steve Wignall; Steve Foley, Bobby Hodge, Steve Leslie, Ian Allinson; Bobby Gough, Trevor Lee.
Sub: Eddie Rowles.
Manager: Bobby Roberts.
Playing squad members: Steve Wright; Ray Bunkell, Russell Cotton, Paul Dyer, Tony Evans; Gary Harvey.
Non-playing squad members: Bobby Hamilton.
Exeter City
Ian Main; Tony Mitchell, Peter Hatch, Jimmy Giles, John Hore, Phil Roberts; Keith Bowker, John Delve, David Pullar; Steve Neville, Peter Rogers.
Sub: Richard Forbes.
Manager: Brian Godfrey.
Playing squad members: Lee Roberts; Roy Ireland; Andy Bell, Ian Pearson, Ray Pratt.
Non-playing squad members: John Baugh, Steve Nute.
Gillingham
Ron Hillyard; John Sharpe, Mickey Barker, Steve Bruce, Mark Weatherly; John Crabbe, Terry Nicholl, John Overton; Ken Price, Damien Richardson, Danny Westwood.
Sub: Tony Funnell.
Manager: Gerry Summers.
Playing squad members: Micky Adams, Colin Ford, Charlie Young; Tony Bottiglieri, Billy Hughes, Pat Walker, Dean White; Terry Jolley.
Non-playing squad members: Gary Sutton, Steve Wheatley; Nigel Donn, Steve Dudley.
Grimsby Town
Nigel Batch; Tony Ford, Dave Moore, Dean Crombie, Kevin Moore, Clive Wigginton; Bob Cumming, Joe Waters, Bobby Mitchell, Mike Brolly; Kevin Drinkell.
Sub: Kevin Kilmore.
Manager: George Kerr.
Playing squad members: Graham Cawthorne, Phil Crosby, Shaun Mawer, John Stone; Gary Liddell.
Non-playing squad members: Harry Wainman; Martin Young; Garry Beacock, John Steeples, Peter Wainwright.
Hull City
Eddie Blackburn; Gordon Nisbet, Roger DeVries, Stuart Croft, Ian Dobson, Paul Haigh; Paul Moss, John Farley, Mick Tait, Gareth Roberts; Keith Edwards.
Sub: Trevor Phillips.
Manager: Ken Houghton/Mike Smith.
Playing squad members: Tony Norman; Ian Bennyworth, Steve Richards, Dale Roberts, Peter Skipper; Micky Horswill, Brian Marwood, Steve McClaren; Bruce Bannister, Nick Deacy, Rob McDonald, Craig Norrie.
Non-playing squad members: Dave Kynman; Dennis Booth, Malcolm Lord, Gary Swann.
Mansfield Town
Rod Arnold; Bob Curtis, Derek Dawkins, Kevin Bird, John McClelland; Neville Hamilton, John Lathan, Arthur Mann; Russell Allen, Terry Austin, Steve Taylor.
Sub: Ian Wood.
Manager: Mick Jones.
Playing squad members: Martin New; Adrian Burrows, Barry Foster, Les McJannet, Brian Thompson; Johnny Miller, Brian Pollard; Dave Caldwell, Dave Goodwin.
Non-playing squad members: Steve Johnson, Gary Saxby; Brian Thomson.
Millwall
John Jackson; Dave Donaldson, Paul Roberts, Mel Blyth, Tony Tagg; Nicky Chatterton, Tony Towner, Tony Seasman, Dave Mehmet; John Lyons, John Mitchell.
Sub: Tony Kinsella.
Manager: George Petchey.
Playing squad members: Phil Coleman, David Gregory, Barry Kitchener, Dave Martin, Paul Robinson; Chris Dibble, Kevin O'Callaghan; Chris Guthrie, Alan McKenna, Jimmy Sweetzer.
Non-playing squad members: Pat Cuff, Peter Gleasure, Paul Sansome; Ian Gale; Andy Massey; Dean Horrix.
Oxford United
Roy Burton; Malcolm McIntosh, David Fogg, Gary Briggs, Joe Cooke; Colin Duncan, Gordon Hodgson, Les Taylor, Billy Jeffrey; Paul Berry, Peter Foley.
Sub: Ray Graydon.
Manager: Bill Asprey.
Playing squad members: David Brown; Andy Bodel, John Doyle, Andy Kingston, Ian Stott, Gary Watson; Kevin Brock, Mark Jones, Hugh McGrogan, Archie White; Adrian O'Dowd.
Non-playing squad members: Steve Foyster, John Milkins; Malcolm Shotton, David Simms, Tim Smithers; Phil Emsden, Martin Wood; Keith Appleton, Nick Merry, Jason Seacole.
Plymouth Argyle
Geoff Crudgington; Tyrone James, Chris Harrison, George Foster, Forbes Phillipson-Masters; Brian Bason, Kevin Hodges, Colin Randell, Brian Johnson; David Kemp, John Sims.
Sub: Mike Trusson.
Manager: Bobby Saxton.
Playing squad members: Neil Hards; Leigh Cooper, Brian McNeill, John Uzzell; Mark Graves.
Non-playing squad members: Steve Morris; Jeremy Collins, Steve McCormick; Clevere Ford, Colin Upton.
Reading
Steve Death; Dave Moreline, Mark White, Steve Hetzke, Roger Joslyn; Richie Bowman, Lawrie Sanchez, Wayne Wanklyn; Pat Earles, Gary Heale, Mike Kearney.
Sub: Ollie Kearns.
Manager: Maurice Evans.
Playing squad members: Jon Cullen, Stewart Henderson, Martin Hicks, Dave Shipperley, Steve Wood; Hugh Cheetham, Alan Lewis, Neil Webb, Jerry Williams; John Alexander.
Non-playing squad members: Ron Fearon.
Rotherham United
Ray Mountford; Gerry Forrest, Ken Tiler, John Breckin, John Green, Paul Stancliffe; Mick Gooding, Mark Rhodes, Billy McEwan, Richard Finney; Rodney Fern.
Sub: Dave Gwyther.
Manager: Jimmy McGuigan/Ian Porterfield.
Playing squad members: Chris Ogden; John Flynn, Ashley Taylor; Peter Carr, Peter Nix, David Smith; Richard Dawson, Vic Halom, Steve Winn.
Non-playing squad members: Steve Galloway, David Markham; Mike Burgess, Stewart Evans, Steve Fleetwood, Richard Moon, Ian Parkin, Ian Vaughan.
Sheffield United
Steve Conroy; Les Tibbott, Paul Garner, John Cutbush, Tony Kenworthy, John MacPhail; John Matthews, Lennart de Goey, Alejandro Sabella, Mick Speight; Barry Butlin.
Sub: Jeff Bourne.
Manager: Harry Haslam.
Playing squad members: Neil Ramsbottom, Derek Richardson; Paul Casey, Andy Keeley, Tony Moore, Craig Renwick; Steve Charles, John Flood, Phil Jones, Trenton Wiggan; Ian Benjamin, Doug Brown, Nigel Steane, Pedro Verde.
Non-playing squad members: Mick Jones, Brian McGarry; Richard Harwood; Steve Finnieston, Keith Larner, Mark Smith.
Sheffield Wednesday
Bob Bolder; Ray Blackhall, David Grant, Mick Pickering, Mark Smith; Brian Hornsby, Jeff Johnson, Terry Curran, Jeff King, Ian Mellor; Andy McCulloch.
Sub: Kevin Taylor.
Manager: Jack Charlton.
Playing squad members: Brian Cox; Jimmy Mullen, Peter Shirtliff, Mel Sterland, Charlie Williamson; Ian Fleming, Dennis Leman, John Lowey, Gordon Owen; Ian Porterfield, Brian Strutt, Rodger Wylde.
Non-playing squad members: Phil Campbell.
Southend United
Mervyn Cawston; Phil Dudley, Steve Yates, Dave Cusack, Tony Hadley, Alan Moody; Anton Otulakowski, Micky Stead, Ron Pountney, Terry Gray; Derek Spence.
Sub: Mick Tuohy.
Manager: Dave Smith.
Playing squad members: John Keeley; John Walker; Jeff Hull, Colin Morris, Andy Polycarpou; Gerry Fell, Graham Franklin, Garry Nelson.
Non-playing squad members: Steve Goodwin, Jon Watson; Peter Abbott.
Swindon Town
Jimmy Allan; Roy Carter, Russell Lewis, Billy Tucker; Chris Kamara, Ray McHale, Ian Miller, Ken Stroud, Brian Williams; Andy Mayes, Andy Rowland.
Sub: John Templeman.
Manager: Bobby Smith.
Playing squad members: Andy Ford, David Peach; Steve Abbley, Roy Greenwood, Bryan Hamilton; Chic Bates, Paul Gilchrist.
Non-playing squad members: Kevin Roberts; John Trollope; Michael Ellery, Charlie Henry, Roy Walsh; Ken Norman.
Wimbledon
Ray Goddard; Steve Jones, Gary Armstrong, Paul Bowgett, Tommy Cunningham; Wally Downes, Steve Ketteridge, Steve Galliers, Steve Parsons; Alan Cork, John Leslie.
Sub: Mark Dziadulewicz.
Manager: Dario Gradi.
Playing squad members: Dave Beasant; Terry Eames, Paul Haverson, Steve Perkins, Mick Smith; Les Briley, Paul Denny, Phil Driver, Craig Richards; Mike Belfield, Ray Knowles.
Non-playing squad members: Ken Dodds.