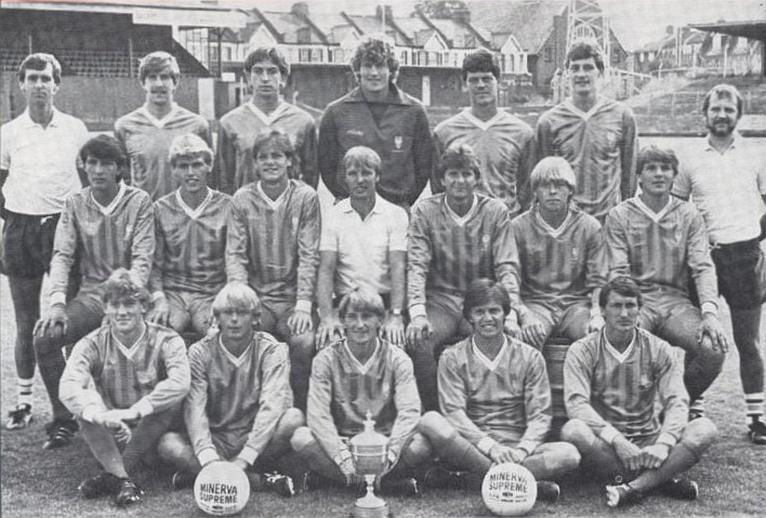 Wimbledon won the Fourth Division in 1982-83, under Dave Bassett's management. Within five years, they had reached the top flight and won the FA Cup – Dave Beasant and Alan Cork were integral to the Dons throughout the decade.
Aldershot
Glenn Johnson; Manny Andruszewski, Ian Gillard, Joe Jopling, Peter Scott; Les Briley, Paul Shrubb, Ian McDonald, Murray Brodie; Dale Banton, Howard Goddard.
Sub: Alan Wooler.
Manager: Len Walker.
Playing squad members: Ian Wood; Colin Fielder, Brian Lucas, Stuart Robinson, Mark Sanford.
Blackpool
Iain Hesford; David Bardsley, Keith Pritchett, Steve Hetzke, Terry Pashley, Dave Serella; John Deary, Dave Hockaday, Bobby Downes; Dave Bamber, Paul Stewart.
Sub: Colin Greenall.
Manager: Sam Ellis.
Playing squad members: Lloyd Scott; Andy Brockbank; John Butler, Billy Jeffrey, Peter Noble; Neil Bramhall, David McNiven.
Bristol City
John Shaw; Gary Williams, Terry Cooper, Alan Nicholls, Forbes Phillipson-Masters; Alan Crawford, Joe Economou, Rob Newman; Ricky Chandler, Glyn Riley, Tom Ritchie.
Sub: Terry Boyle.
Manager: Terry Cooper.
Playing squad members: Andy Llewellyn, Nigel Smith, Paul Stevens; Wayne Bray, Mark Jones, Tony Kelly, Russell Musker, John Palmer, Steve Thompson; Chris Garland, Simon Panes, Paul Williams.
Bury
David Brown; Paul Gardner, Joe Jakub, John Bramhall, Bruce Halliday; Tommy Gore, Eric Potts, Franny Firth; Steve Johnson, Craig Madden, Stuart Parker.
Sub: Paul Hilton.
Manager: Jim Iley.
Playing squad members: John Platt; Steve Kenworthy; Len Cantello, Paul Cruickshank, Chris Cutler, Mark Hilton, John Hughes.
Chester
Phil Harrington; Noel Bradley, Martin Lane, Trevor Storton, Peter Zelem; Paul Blackwell, Tom Sloan, Steve Ludlam, Clive Wilson; Gary Simpson, John Thomas.
Sub: Paul Needham.
Manager: John Sainty.
Playing squad members: Grenville Millington; Peter Bulmer, Mark Dean, Nigel Edwards, Greg Moffat, Mike Williams; John Allen, Paul Johnson, Paul Manns, Ian Workman; Terry Cooke.
Colchester United
Mike Walker; Phil Coleman, Micky Cook, Steve Wignall; Jeff Hull, Dennis Longhorn, Ian Allinson, Roger Osborne, Steve Leslie; Tony Adcock, Roy McDonough.
Sub: Allan Hunter.
Manager: Allan Hunter/Cyril Lea.
Playing squad members: Alec Chamberlain; Adrian Keith, Mike Packer, Wayne Ward; Perry Groves; Keith Bowen, John Lyons.
Non-playing squad members: John Taylor; Craig Oldfield.
Crewe Alexandra
Steve Smith; Neil Salathiel, Danny Bowers, Nigel Hart, Bob Scott; Paul Bancroft, Steve Craven, Clive Evans, Sean Haslegrave, Tony Cliss; David Waller.
Sub: Nigel Walker.
Manager: Arfon Griffiths/Peter Morris.
Playing squad members: Paul Brady, Steve Edwards, Tony Moore; Steve Hanlon, Mark Palios, Mel Sutton; Daryl Chapman, Dave Goodwin, Steve Jones, Bernard Purdie.
Darlington
Pat Cuff; Alan Kamara, Tim Gilbert, David Barton, Kevan Smith, Harry Wilson; Brian Honour, Gavin Liddle, David McLean; Tony McFadden, Kevin Todd.
Sub: David Young.
Manager: Billy Elliott.
Playing squad members: Fred Barber; Trevor Brissett, Jeff Wilson; Peter Cartwright, Barry Dunn, Dave Hawker, Dave Wakefield, Roger Wicks; Steve McDermott, John Stalker.
Halifax Town
Lee Smelt; Keith Nobbs, Mick Wood, Dave Evans, Tony Smith; Paul Hendrie, Steve Spooner, Steve Ward; Vernon Allatt, Martin Nuttall, David Staniforth.
Sub: Everton Carr.
Manager: Mickey Bullock.
Playing squad members: Malcolm Goodman, Paul Kendall; Barry Gallagher, Jim Hallybone.
Hartlepool United
Eddie Blackburn; Phil Brown, Mickey Barker, John Bird, Andy Linighan, Trevor Smith; Roy Hogan, Paul Staff, Mark Lawrence, Barrie Stimpson; Phil Linacre.
Sub: Kevin Johnson.
Manager: Billy Horner.
Playing squad members: John Watson, Gary Wright; Terry Bainbridge, Stuart Boam, Mike Fagan, Andy Higgins, David Linighan, Mark Taylor; Paul Dobson, Jim Hamilton, Alan Harding, Kenny Lowe, Ged McNamee, Mark Robinson, Dave Stewart; John Borthwick, John Langridge, Steve Winn.
Non-playing squad members: Graham Richardson; John Gollogly, Paul Harrington, Derek Loadwick; David Howard.
Hereford United
Kevin Rose; Chris Price, Ian Bray, Keith Hicks, Mel Pejic; Jim Harvey, Winston White, Sean Lane, Danny Bartley; Stewart Phillips, Derek Showers.
Sub: Peter Spiring.
Manager: Tommy Hughes.
Playing squad members: Mel Gwinnett, John Jackson; Adam Musiał, Ian Ross; John Crabbe; Dixie McNeil, John Teasdale.
Non-playing squad members: Shaun Mather.
Hull City
Tony Norman; Bobby McNeil, Dale Roberts, Peter Skipper; Billy Askew, Dennis Booth, Brian Marwood, Steve McClaren, Gareth Roberts; Les Mutrie, Billy Whitehurst.
Sub: Garry Swann.
Manager: Colin Appleton.
Playing squad members: John Davies; Emlyn Hughes, Steve Richards, Neil Thompson; Ian Davis; Andy Flounders, Billy Woof.
Non-playing squad members: Mike Czuczman.
Mansfield Town
Rod Arnold; Simon Woodhead, Keith Kennedy, Billy Ayre, Kevin Bird, Colin Calderwood; Charlie Bell, John Matthews, Gary Nicholson; David Caldwell, John Dungworth.
Sub: Bobby Hutchinson.
Manager: Stuart Boam/Ian Greaves.
Playing squad members: Dave Coles; Ray Blackhall, Mark Reynolds; Mark Kearney, Joe Laidlaw, Jon Laws, Tony Lowery, Mark Sindall, Adrian Thorpe; Alan Waddle.
Northampton Town
Neil Freeman; Barry Tucker, Ian Phillips, Adrian Burrows, Wakeley Gage, Paul Saunders; John Buchanan, Peter Coffill, Gary Saxby; Steve Massey, Dave Syrett.
Sub: Peter Denyer.
Manager: Clive Walker.
Playing squad members: Mark Kendall; Dave Beavon; Frank Belfon, Mark Heeley, Maurice Muir, Adam Sandy; Steve Perrin.
Peterborough United
David Seaman; John Winters, Steve Collins, Neil Firm, Billy Rodaway, Trevor Slack; Phil Chard, Micky Gynn, Ivor Linton; Ian Benjamin, Colin Clarke.
Sub: Robbie Cooke.
Manager: Martin Wilkinson.
Playing squad members: Jack Carmichael, Mike Imlach, Steve Mercer, Pat Rayment, Richard Sutton; Trevor Quow; Mario Ippolitto.
Port Vale
Barry Siddall; Colin Tartt, Russell Bromage, Wayne Cegielski, John Ridley, Phil Sproson; Terry Armstrong, Steve Fox, Geoff Hunter; Ernie Moss, Bob Newton.
Sub: Jimmy Greenhoff.
Manager: John McGrath.
Playing squad members: Neil McAdam, Andy Poole; Robbie Earle, Andy Shankland, Steve Waddington; Mark Bright, Les Lawrence, Jim Steel.
Non-playing squad members: Chris Banks; Felix Healy.
Rochdale
Chris Pearce; Gerry Keenan, Eric Snookes, Gerry McElhinney, Bill Williams; Peter Farrell, Eugene Martinez, David Thompson; Micky French, Mark Hilditch, Barry Wellings.
Sub: Roy Greaves.
Manager: Peter Madden.
Playing squad members: Graeme Crawford; Ronnie Blair, Brian Greenhoff, Peter Nicholson, Brian Taylor, Jack Trainer, Alan Weir; Neville Hamilton, Andy Stafford, Geoff Thomas; Malcolm O'Connor, Stewart Thompson.
Scunthorpe United
Joe Neenan; Andy Keeley, Neil Pointon, Steve Baines, Alan Boxall, Lee Hunter; Dennis Leman, Paul O'Berg, Noel Parkinson; Steve Cammack, Chris Cowling.
Sub: Bob Oates.
Manager: John Duncan/Allan Clarke.
Playing squad members: Ian Webster; Martin Fowler, Dave Gilbert, Tommy Graham; John Duncan, Simon Snow, George Telfer.
Stockport County
Brian Lloyd; John Rutter, Steve Sherlock, Nigel Smith, Andy Thorpe; Dean Emerson, Oshor Williams, Tony Coyle; Trevor Phillips, Mike Power, Micky Quinn.
Sub: Paul Bowles.
Manager: Eric Webster.
Playing squad members: Andy Seddon, Tommy Sword; Mark Leigh, Terry Park; Dave Liptrot, Mick Wardrobe.
Swindon Town
Jim Allan; Colin Bailie, Kevin Baddeley, Mike Graham, Russell Lewis; Paul Batty, Howard Pritchard, Gary Emmanuel, Leigh Barnard; Paul Rideout, Andy Rowland.
Sub: Charlie Henry.
Manager: John Trollope.
Playing squad members: Mark Stevens; Ray Baverstock; Martin Blackler, Brian Hughes; Jimmy Quinn.
Non-playing squad members: Ken Beamish.
Torquay United
Graham Horn; John Doyle, Graham Jones, Brian O'Donnell, Brian Wilson; Roy Carter, Steve Grapes, Alan Little, Colin Anderson; Steve Cooper, Jackie Gallagher.
Sub: Ray Bishop.
Manager: Bruce Rioch.
Playing squad members: Alan Pluckrose, Mark Smith; Tony Brown, Bruce Rioch, Tom Sermanni, Frank Sheridan, Willie Young.
Tranmere Rovers
Scott Endersby; Dave Burgess, Steve Mungall, John Williams; John Aspinall, Ian Griffihs, Neville Powell, Bryan Hamilton, Mark Ferguson; Owen Brown, John Kerr.
Sub: Kevin Mooney.
Manager: Bryan Hamilton.
Playing squad members: Nigel Adkins; Andy Brown, David Brown, Ray Mathias, Les Parry, Steve Warriner, Gary Williams; Ray Woods; Reg McGuire, Ken McKenna, Neil Prosser.
Wimbledon
Dave Beasant; Gary Peters, Dean Thomas, Mark Morris, Mick Smith; Wally Downes, Steve Ketteridge, Steve Galliers, Glyn Hodges; Stewart Evans, John Leslie.
Sub: Steve Hatter.
Manager: Dave Bassett.
Playing squad members: Kevin Gage, Steve Jones, Tony Tagg; Chris Dibble; Mike Belfield, Alan Cork, Wayne Entwistle, Paul Fishenden.
York City
Roger Jones; Chris Evans, Alan Hay, Ricky Sbragia, Denis Smith; Malcolm Crosby, Gary Ford, Derek Hood, Brian Pollard; John Byrne, Keith Walwyn.
Sub: Micky Laverick.
Manager: Denis Smith.
Playing squad members: Mike Astbury; Richard Dawson, John MacPhail, Steve Senior; Dave King, Tom Stanley; Viv Busby.